Easy ways to pay your bill
You can pay in the Health Centre. We are open from 8.00am – 8.00pm
We accept most credit and debit cards and cash
We take payments over the phone by credit and debit cards
You can pay via internet banking: UHHC 03 0774 0642197 00. Please ensure patient name is used as reference.
You can set up an automatic payment or direct debit through online banking, or ask your bank and they will help you
WINZ may be able to help with medical costs
Contact us to discuss a payment plan. Even if it's a couple of dollars a week until you get back on your feet
Payment in full is required at the time of your appointment. You can pay by cash, EFTPOS, MasterCard or VISA.
If you are having difficulties paying an account, please contact our accounts department on 04 920 1800. It is possible to pay accounts in small manageable automatic payments and there may be other ways we can help.
If your account is unpaid at the end of the month and you haven't made any payment arrangements with us, we will:
ask you to pay before you see a doctor or nurse for all appointments.
reserve the right to review your enrolment with Upper Hutt Health Centre.
This policy forms part of the of the Upper Hutt health Centre enrolment process, compliance with this policy is mandatory.
If you are unable to keep your appointment with your doctor, please call us to cancel. We reserve the right to charge a non-attendance fee up to the full cost of your appointment.
If you are unable to attend your consultation at least 2 hours' notice must be given. Failure to do this will incur a penalty charge.
---
Southern Cross easy claim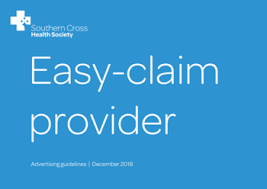 The Upper Hutt Health Centre is a Southern Cross registered practice.
This means Southern Cross members can claim electronically for eligible services and treatments at the time of treatment without having to complete a claim form. We will make the claim using your membership details on the easy-claim Southern Cross portal. You will know your outcome within seconds and the refund normally received from Southern Cross is paid directly to us.
---
Visit our Forms and Fees page for more information on appointments and costs.